Date Submitted: Thu Jul 31, 2008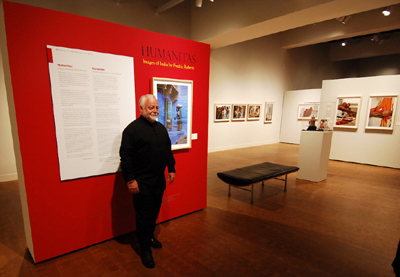 "The unintended value of my artwork is an archive of a culture that is quickly dying in India" was what businessman turned photographer Fredric Roberts had to say about his pictures, 36 of which are presently on display at The Museum of Photographic Arts (MoPA), San Diego in its featured exhibition " Humanitas: Images of India."

What sets his work aside is his perception of the beauty of the simple people and their deep devotion to their culture, relationship and religious beliefs, something which is no longer visible to modern society or just taken for granted or just not noticed in the rapidly changing pace of urban growth through globalization and commercialization. His pictures jump at the viewer and jolt them by reminding them of a gentler and simpler time when faith ,love and family formed the cornerstone of the last generations.

Like most Americans, Roberts passed through the traditional path to success via academic studies through Yale and into a very lucrative investment banking career which led to his embarking on his own. In 1986, six years into his business during which he had achieved considerable financial success, he was struck by disillusionment. Having made enough to live on what he had made, Roberts went on a spiritual journey by himself and spent about 6 weeks with monks and rural communities in China, Tibet and Thailand armed with a camera to record places he had visited.

On his return he chanced to read an ad in the LA Times for a weekend photography UCLA Extension Course conducted by a couple who were senior photographers at the National Geographic. So impressed were they with the pictures he had brought back they invited him to become their student. But fate decided otherwise when he found he had been embezzled which forced him back to an industry he excelled in but hated. He made his way right back to the top in the world of finance and was in 1993 Chairman of the Board of Governors of NASD which owned and operated the Nasdaq Stock Market and then held several prestigious executive positions.

Having bounced back financially, in 2000 Roberts quit the industry a second time and thought he would devote all his time to charity, his work on the Board of the LA Music Center, help in building the Walt Disney Concert Hall and build on a huge scholarship program he had started. But someone reminded him of his interest in photography and he joined the Santa Fe Photographic Workshop where he said " It happened."

It was a chance encounter in 1986 with an aged monk in a remote location in Hue in Vietnam that Roberts was able to finally 'articulate' his point of view. Invited to tea by the venerable man , he told Roberts how lucky the Americans were having everything in plentiful in being so rich. It at that moment when it struck Roberts , who had just a while earlier been afforded hospitality by a poor farmer , his wife and three daughters and whose love and devotion for each other in spite of living on the edge of life and death had deeply moved him , that it was they who were rich. He humbly disagreed with the monk and spoke his "point of view" that it is indeed they who are truly wealthy and not the Americans whose lives are fraught with hostility , jealousy and misery in spite of all their bounties.

Though widely traveled in South East Asia, Fredric Roberts does not deny a soft corner for India with whom he has had an association since 1974 when he used to travel there on business. He lamented the fact that Mumbai and other Indian cities have now "homogenized" into like any other city in the world and the time was not far when everyone in India will be wearing an Armani shirt and jeans. As soon as he arrives he tries to get out to the villages where people still have "the essential values and culture that is beautiful."

On his first trip he concentrated on Rajasthan and his pictures of the region comprise 50% of his first book , " Humanitas." while the other half is from all over South East Asia. It contains pictorial extracts from the lives of the tribals with whom Roberts developed a close relationship sharing their masala chai and chappatis. The second publication " Humanitas II " comprises breathtaking images of regions in Gujerat not visited by normal tourists and which he says still harbors fundamental religion, amazing folk art and incredible cultural industries such as painting, embroidery, weaving and wood carving. Also included are shots which capture "pure religious devotion" taken from the temples of Gujarat including the Swami Narayan temple and the Adinath Jain Temple Complex in Palitana. Cost Plus , of which the photographer is a Board member , stocks the book too and all profits are donated to charity.

It was the previous Director of MOPA Arthur Ollman who added the first picture of Fredric Roberts to the Museum's collection. Current incumbent Deborah Klochko found the images in the books so powerful she wanted the show just on India , and was instrumental in the exhibition which will continue up to September 7, 2008. Impressed with its rich cultural displays , the Mingei Museum has also integrated its ancient wood, silver and ceramic artifacts which has given it a totally fresh dimension. Due to its success the museum plans to take the show to other venues and cities in the country.

Roberts shoots all his pictures digitally because he is able to make ISO/ ASA adjustments instantaneously , can get a high degree of resolution for creating large size prints and also because it affords the ability to check out pictures quickly and go back to locations if he is not satisfied with the first results. He explains he photographs only in color because , as in the case of India, he feels the viewer is cheated out of 75% of the beauty of the land and its people of done in black and white.Roberts also specializes in a technique where certain parts are in motion while the remaining portions in the frame are still. He also adopts another feature in which some areas are in focus while others are not and the most notable feature of his work are the powerful colors which scream out from the pictures.

Fredric Roberts accepts he is twice blessed in his life. The first commercial phase , one which he frankly despised , yet gave him the financial freedom to pursue what he thinks are more important , and the second phase in which he calls his reincarnation in the true Hindu sense in which he developed his "point of view" which enables him to give expression to his life and work. He describes his work as " When I look at the people I photograph, I see that they have a larger vision that transcends monetary wealth, It is about their relationship with their God, with their land, neighbors and family. It is the power of those relationships that I want to communicate."

Fredric Roberts will be giving a lecture on his experiences and his work on August, 14, 2008 at 7.00 pm at the Joan & Irwin Jacobs Theater at MoPA, San Diego . As a complement to the exhibition , the museum will also present an India Festival highlighting the culture of India, in particular Gujarat. The photographer will also be happy to make presentation for groups who wish to know more about his work and his experiences in India.